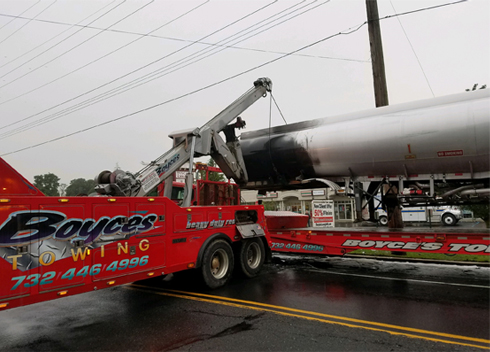 The Dennis Boyce Towing fleet has recovery capabilities that cover everything from cars in ditches to rolled tractor-trailers. Our operators have the knowledge and equipment to safely and efficiently recover virtually any vehicle — large or small — from any situation.
Our air cushion recovery system enables us to upright loaded tractor-trailers without offloading cargo, saving time and manpower.
We also specialize in off-road recovery.

Dennis Boyce Towing
64 U.S. 9 Morganville, NJ 07751
Towing Hours
Mon-Fri: 6am- 10pm
Sat, Sun : 7am – 8pm
Cards Accepted:


Vehicle Pick Up Hours: Mon.to Fri. 8am-5pm
(30 minute call ahead required. Please note that after-hour releases are available for an additional fee. All municipality impounded vehicles require release from municipality.)